When: Spring 2022
Where: Little Rock, AR
Research Theme: Cyberinfrastructure
DART Faculty Participants:
Fred Prior, UAMS
DART Student Participants:
Anu Iyer, Little Rock Central High School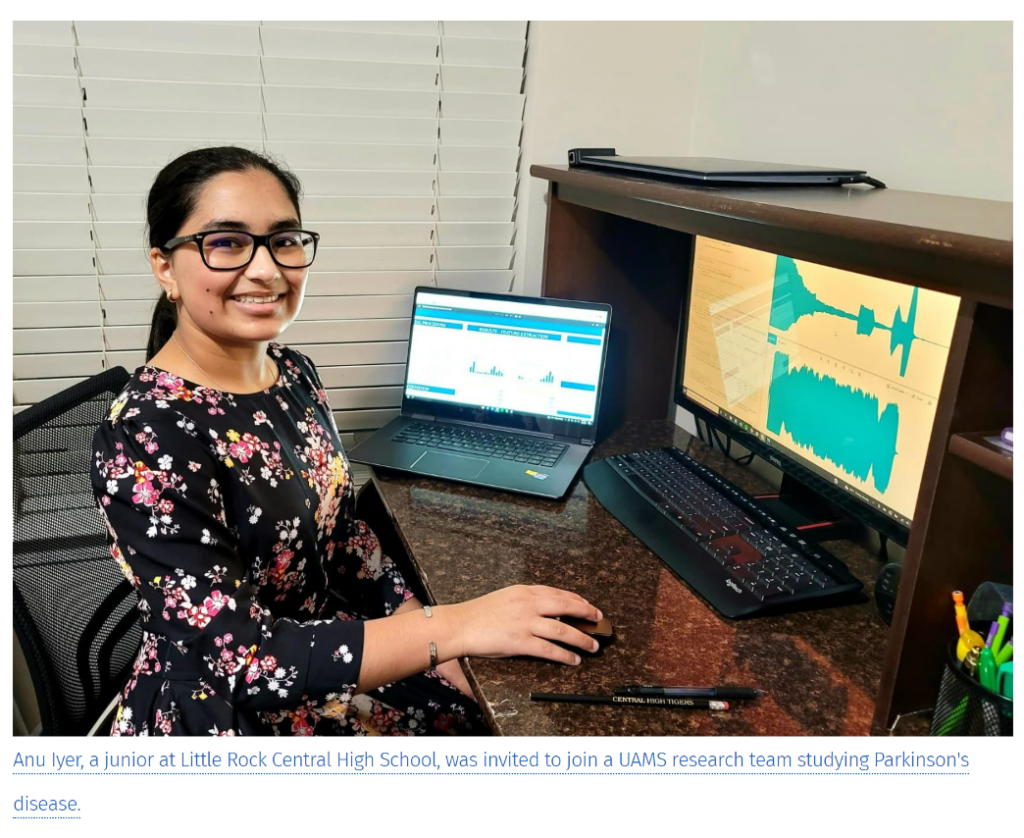 Anu Iyer, a junior at historic Central High School in Little Rock Arkansas, was featured in multiple news outlets for developing a more accurate machine learning tool for diagnosing multiple cancers. She worked with Dr. Fred Prior and his research team at the University of Arkansas for Medical Sciences. Ms. Iyer, with support from her mentor Dr. Fred Prior, developed a convolutional neural network that learned features from segmented speak files and correctly classified patients with Parkinson's disease and normal controls. This is part of a larger research program to analyze speech patterns acquired during telemedicine consults to predict and track disease progression of Parkinson's in a target population.
Iyer's Systematic Parkinson's Audio Recognition Construct Program (S.P.A.R.C.) will be useful in telehealth appointments as a virtual screening tool for Parkinson's. This will be especially helpful for elderly patients. The model will learn audio and voice patterns as the disease progresses. As the nature of healthcare continues to change, this virtual tool will help assess patients no matter where they are.
The tool mentioned in this highlight is only one of a few projects that Dr. Prior and Ms. Iyer are working on, and a quick google search for Anu Iyer Little Rock AR will display additional accomplishments from the team. When she was in middle school, she was part of a small team that won best in state for the 5th Verizon Innovative App Learning Challenge, for their mobile app concept called SmartRnger.
Ms. Iyer's research was funded partially by NSF award OIA-1946391 through the Data Analytics that are Robust and Trusted (DART) Summer Undergraduate Research Experience (SURE) program, which provided funds for a stipend, supplies, and other necessary materials for the work. Her mentor, Dr. Fred Prior, is a member of the DART leadership team and is working on a variety of research activities on the project.