When: September 13, 2022
Where: Little Rock, AR
Research Theme:
Cyberinfrastructure
Data Life Cycle and Curation
DART Faculty participants:
Lawrence Tarbox, UAMS
David Ussery, UAMS
DART Student participants:
Sangam Kadel, UAMS
Ashley Herdman, UAMS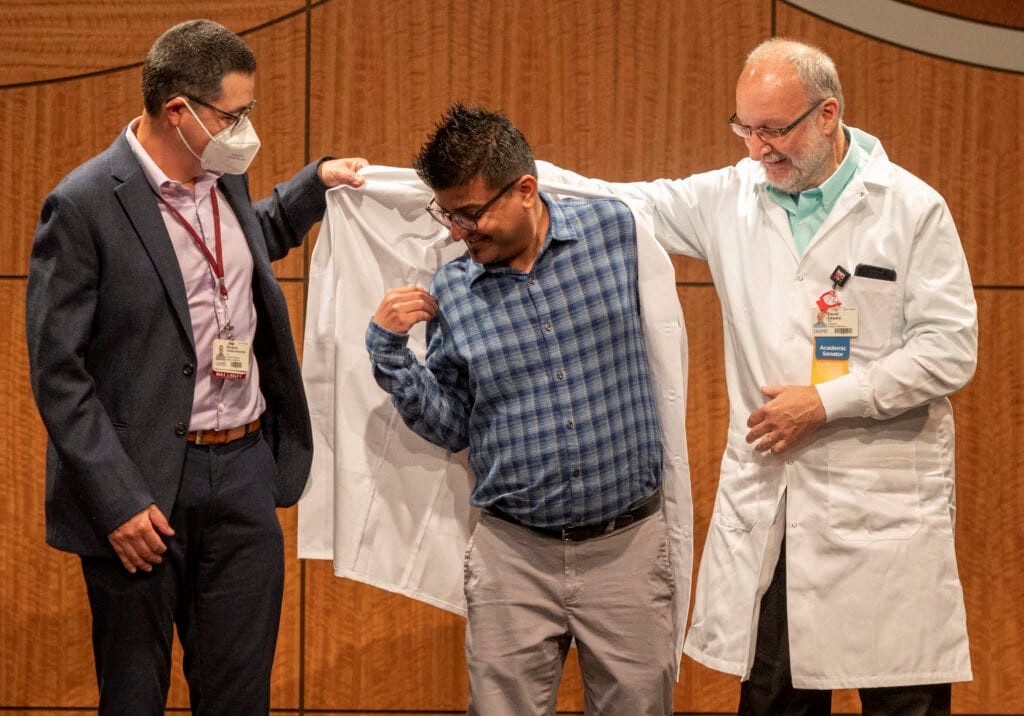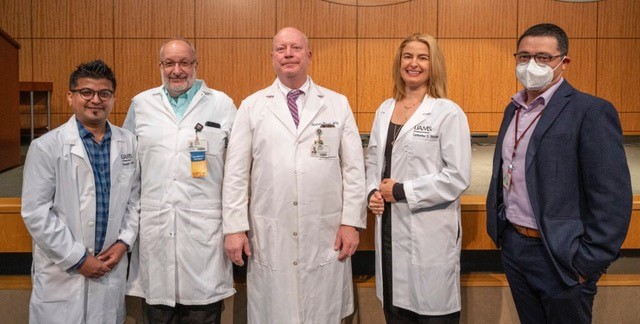 Several graduate students with ties to the Department of Biomedical Informatics (DBMI) celebrated a significant milestone along the journey to complete their Ph.D. programs by participating in the UAMS Research Induction Ceremony on Monday.
Sangam Kandel, Mitra Rocca, and Catherine "Cat" Shoults have passed the qualifying exams for their degrees, marking the transition to a focus on their dissertation research and away from a time spent mainly on coursework.
Sangam's project is related to the genomic surveillance of SARS-CoV-2, the virus that causes COVID-19. He has sequenced about 3,000 SARS-CoV-2 genomes from Arkansas using Nanopore handheld genomic sequencer technology, including the first Omicron variant in Arkansas. With the help of sequencing, Sangam can track what variant of SARS-CoV-2 is circulating in the community, identify the transmission pattern, and track mutations within the viral genome that plays a key role in disease pathogenesis, severity of symptoms, efficacy of vaccines and antibody treatment.
"The research is in an exciting stage where we are comparing the genomes we have sequenced with millions of genomes available from public database to better understand the evolution of the virus over time," Sangam said.
Dr. David Ussery is Sangam's Dissertation Committee chair.
The success of many Ph.D. programs hinges on the mentee-mentor relationship. This mutually strong bond often lasts a lifetime. At the ceremony, Dr. Ussery and Dr. Powell helped Sangam and Cat don their white coats in recognition of this partnership, along with DBMI Graduate Program Director Dr. Horacio Gomez-Acevedo.
In addition to the three DBMI students, there were 23 students from other programs that advanced to doctoral candidacy.
Among them, Ashley Herdman is funded by the DART NSF grant, and is working with DBMI's Dr. Larry Tarbox on imaging analysis.
Ashley's project is currently studying pituitary cellular networks and how they communicate to aid in reproductive processes. Through the utilization of transgenic animal models, she is able to conduct high-resolution imaging of specific pituitary cell types and their response to various stimuli. In order to determine how signaling patterns of individual cells coordinate at the population level to achieve hormonal surges, she will analyze large imaging datasets with biological computing programs such as ImageJ and MATLAB.
---
Original article written by Amy Widner